1.     The GreatWall was 21,196.18 kilometers (13,170 miles) long, but is now only(only, lol, like its short or something) 8851.8 kilometers (5500 miles) long.To put this in prospective, the circumference of the Earth is 40,075 kilometers(24,901 miles), that means that the Great Wall of China, one of the sevenwonders of the world, would only need to be replicated 4 and a half times tomake it all the way around the world. So if you walked the Great Wall 4 and ahalf times, you would have walked around the world, hmmm. Interesting thought.Challenge accepted.
2.     Construction of the Great Wall lasted from between770-476BC and lasted till 1368-1644 in theMing Dynasty. The complete wall that we see today (or what hasn't beeneroded…yet) was built in sections over a period of about 2,000 years (yikesthat's a long time). As time went on, each dynasty conquered more and more land(yessss more land, the precious), and each time they extended the wall toprotect it (protect the precious *hisssss*). Over the years, they used slaves,the poor, and even criminals (seems kind of strange to entrust criminals tobuild a wall to keep people safe, but oh well!) to build this massivestructure. As the saying goes, Rome was not built in a day, and neither was theGreat Wall (not like I expected it to be, well maybe a little).
3.     About 1/3 of the Great Wall has disappeared…without atrace (aliens anyone?). It's due to a combination of natural erosion and humans- village people nearby used them to build their houses during the CulturalRevolution ("and this side of the house is made of newly resorted Great Wall"says every villager). But really though, being able to carry around a piece ofone of the seven wonders of the world in your pocket? Insanity. There are lawsabout that though, so try and keep your kleptomaniac tendencies hidden, atleast until you're in your car. Headed in the opposite direction. Far away fromme.
The protection laws regarding the Great Wall are asfollows:
According to article No. 18, the following activities on the wall areforbidden:
1. Take away earth, bricks, stones and plant crops. (hmmm, yes theGreat Wall is the perfect place to grown my lovely sun flowers, said no oneever.)
2. Vandalism and graffiti (But what if it's pretty?)
3. Span or fix any establishment, fixtures, or equipment irrelevant tothe Great Wall protection. (Interesting. Don't fix it if it's irrelevant. Goodlife advice.)
4. Drive or span over the wall using any vehicle. (Yes, lets' driveour 2014 bubble bee yellow Hummer over the 2000-year-old wall.)
5. Carry any items that may destroy the wall. (Like my hands?)
6. Organize activities on the sections that have not been developedinto tourist areas. (Dang, so no surprise birthday parties on the Great Wall?Crap I gotta cancel that bouncy house.)
7. Any other activities that are forbidden by laws and regulations onprotection of cultural relics.
So it your wonder if you should, maybe just don't.
4.     Manynational leaders have visited the Great Wall (including me, national leader ofme myself and I). Here's some people you probably know (if not, look 'em up!):
Margaret Thatcher
Richard Nixon
Constantin Dascalescu
Queen Elizabeth II
Boris Nikolayevich Yeltsin
George W. Bush
Vladimir Putin
Stephen Harper
David Cameron
Micheal Jordan
Lebron James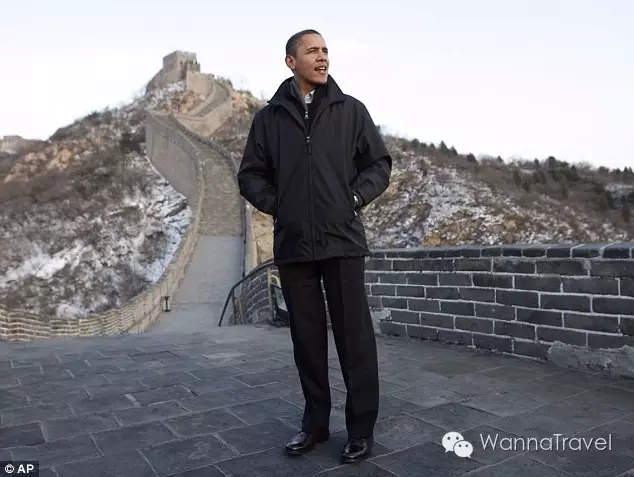 5.     When should you visit the Great Wall (cause you have to go!)? It really depends on you, andyour feelings about weather…. You could go in the summer, when it's hot,everywhere (mostly…). The average temperature between June and August is around86 degrees Fahrenheit (or 30 degrees Celsius for the rest of the world). Andits tourist season so everybody and their mothers' brothers' dog is gonna bethere. But summer is the prime time to visit, kids are out of school (sorryparents) and the weather is beautiful. As for your mothers' brothers' dog issue(really hope you don't call it your cousin…), make arrangements with a privatetour company. Perfect example, Wanna Travel. The Great Wall Camping trip is oneof their most popular tours, and for good reason. You camp on the Great Wall.So not only do you get to see the non-touristy stuff (hallelujah!), you alsocamp there overnight, bonfire, marshmallows and all. Then to top it all off(cause being able to stay overnight at one of the seven wonders of the worldisn't great enough on its' own), you have a prime, perfect, magical view of thesunrise. Nothing starts a day off better than watching the sun rise from theGreat Wall (speaking from experience here). Granted it was early (it might havebeen a hallucination I was so tired) and I hadn't had my daily Mocha Java ChipFrappuccino (yes I am a white girl), it was one of the most peaceful andmemorable moments of my life (which was then roughly thrown back into realitywhen a water bottle was dropped on my head, story for another time).
By Katie S.
Wanna know more? Follow us!
Wechat: wanna-travel1
Phone number: 13764884661
Follow: Wanna_travel
Facebook: www.facebook.com/wannatravel1
Our next camping on the Great Wall trips:
Dates:
July 23-24
August 27-28
September 24-25
October 3-4
More info: https://wannatravelshanghai.com/trips/camping-on-the-magnificent-great-wall/